Torrance Coombs

Biographical Information
Real Name:
Torrance Coombs
Born:
June 14, 1983
Age:
33
Height:
6'
Originally From:
Vancouver, British Columbia, Canada

Wife:
Alyssa Campanella
Twitter:
@torrancecoombs
Personal Information
First appearance:
Pilot
Portrays:
Sebastian

GALLERY
Torrance Coombs (born June 14, 1983) is a Canadian actor. He portrays Sebastian on Reign.
Life & Career
Edit
Born and raised in Vancouver, British Columbia, Coombs first got into acting when he joined the school choir as a means of breaking out of his shell. His first part was as Rum Tum Tugger in a production of "Cats."
Coombs completed the acting program at the University of British Columbia. After graduating with his BFA, he jumped into the theater scene, doing two seasons at Vancouver's prestigious "Bard on the Beach" Shakespeare Festival and various other shows.
In February 2013, Torrance Coombs was cast to play Sebastian, Prince Francis' handsome, roguish half-brother, who has a history of his own – despite his illegitimate birth, Bash is his father's favourite in The CW's drama series Reign.
Torrance Coombs, Steve Lund, Tahmoh Penikett, Michael Therriault, Ted Atherton were all on the Canadian tv show, Haven.
Alan van Sprang and Torrance Coombs both had major roles on The Tudors while Bill Goddard was a producer.
Megan Follows, Torrance Coombs, Jonathan Keltz, Kate Ross, Siobhán Williams, Jonathan Goad were all cast memebers on Heartland While Sudz Sutherland and Norma Bailey were directors.
Currently lives in LA and is roommates with Siobhán Williams.
Torrance Coombs and Shawn Doyle both worked on Endgame while Charles Binamé was a director.
Attended the People's Choice Awards with Adelaide Kane in 2014.
Reign Episode Guide
Edit
Filmography
Edit
These are not including any 'short' credits
Filmography

| Year | Title | Role | Notes |
| --- | --- | --- | --- |
| 2007 | Supernatural | Mitch | 1 episode |
| 2008 | jPod | John Doe | 13 episodes |
| 2009 | Battlestar Galactica | Lance Corporal C. Sellers | 1 episode |
| 2009 | The Tudors | Thomas Culpepper | 8 episodes |
| 2011 | Kits | Campbell | TV Moviede |
| 2011 | Afghan Luke | Davey | Movie |
| 2011 | Endgame | Sam Besht | 13 episodes |
| 2011 | Killer Mountain | Chance | TV Movie |
| 2011 | Haven | Kyle Hopkins | 1 episode |
| 2011 | Stay with Me | Jake | TV Movie |
| 2011-2012 | Heartland | Chase Powers | 10 episodes |
| 2013 | Kill for Me | Cameron | Video |
| 2013 | Liars All | Dennis | Movie |
| 2013 | Reign | Sebastian | 62 Episodes |
| 2014 | Polaris | Milo | TV Mini-Series |
| 2014 | Drawing Home | Kit Paley | Movie |
| 2014 | Eadweardn | Bell | Movie |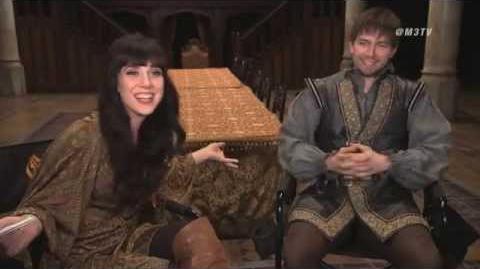 Reign After Show with Torrance Coombs After Show Season 1 Episode 22 "Slaughter Of Innocence" Afte-0

Reign - CWestionator Torrance Coombs-1409989681

Reign - Torrance Coombs Interview

Reign - Toby Regbo Torrance Coombs Interview

Reign - Torrance Coombs Interview-0

Good Guys Reign Interview with Torrance Coombs

"Reign" Cast Reveals Romance Spoilers at People's Choice 2014!

Reign's Torrance Coombs Talks Real-Life Romance

Interviews with the Stars of Reign Adelaide Kane, Toby Regbo & Torrance Coombs

NYCC 2013 -- Toby Regbo & Torrance Coombs -- Fangirlish

Toby Regbo and Torrance Coombs on Playing Francis and Bash on the CW's New Show 'REIGN'

NYCC 2013 - Reign - Torrance Coombs and Toby Regbo
Related Pages
Edit