Unbeknown to Mary Stuart, her mother Marie de Guise added a secret clause into her wedding contract that would give Scotland to her husband Prince Francis if she died without children.
Mary found out about the contract months later, and with Lady Kenna's help was able to find it, and destroy it. She had a Scot's Welcome Celebration and secretly enlisted the help of Lord McKenzie and his men to send a message to Scotland how their Regent Queen had betrayed them. However, they were murdered by Queen Catherine and eventually the entire matter was dropped.
Don Carlos requested that he be given the title of The Crown Matrimonial and was then planning on murdering Mary Stuart on their way to Scotland. However, the plan was discovered by Gideon Blackburn and the wedding was called off.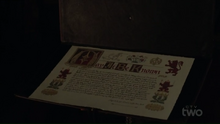 Lord Darnley requested The Crown Matrimonial from Mary Stuart as part of their marriage agreement. However, she refused, citing Don Carlos' attempted murder of her.
Ad blocker interference detected!
Wikia is a free-to-use site that makes money from advertising. We have a modified experience for viewers using ad blockers

Wikia is not accessible if you've made further modifications. Remove the custom ad blocker rule(s) and the page will load as expected.