"Protect my son! tell John I love him. Tell him everyday!"
—Lady Lola
Season Final
Mary makes a bold move to defend her reign in Scotland, which results in a battle royale with her cousin, Elizabeth. Lola is accused of a heinous crime and suffers the drastic consequences. Meanwhile, back in France, Catherine finds that Charles has returned a changed man after paying a price for his mother's relentless quest for power.
Sebastian: Where are you going?
Mary Stuart: To show John Knox that Queens do not bow to their subjects. It is in-fact, quite the other way around.
Mary Stuart: And may God, and your Queen. Have mercy of your soul.
Lady Lola: Please go. While I still have the courage to say goodbye.
Queen Catherine: Leith protect my daughter. May you cling to each other. May you have a long and happy life. I give you my blessing to wed.
Princess Claude: If you go on this mision. I'll stop loving you!
Leith Bayard: You can do that. Just like that?
Princess Claude: Yes. Ask anyone. I'm as fickle as they come.
Leith Bayard: I suppose that does change things. Before, I had reason to return home quickly and all in one piece.
Sebastian: You murdered the man who took Francis from you.
Lady Lola: Protect my son! Tell John I love him. Tell him everyday!
Lady Lola: Stéphane. Let me go.
John Knox: If you care about your sister, don't give her reason to misstep.
James Stuart: And if I care about my sister, what do I do about you!
Queen Catherine: My dearest son, you can't hug your big brother whenever you like. He's king. At the moment.
John Knox: Scotland could be the first true democracy since the Greeks!

Death Toll [2][3]
- 3 The Red Knight
- Wulver
- 1 English Guard
- Lady Lola
Historical Notes
Edit
Robert Dudley did marry Lettice Knollys but not for another 17 years, on 21 September 1578.
Executioners sometimes ask for forgiveness from whoever they were about to behead. As was the case for Anne Boleyn, right before her beheading.
| | |
| --- | --- |
| | Official Pictures from each episode, and an additional 50 pictures gallery is available here. |
Characters
Edit
| | |
| --- | --- |
| | Character debut |
| | Speaking debut |
| | Episode debut |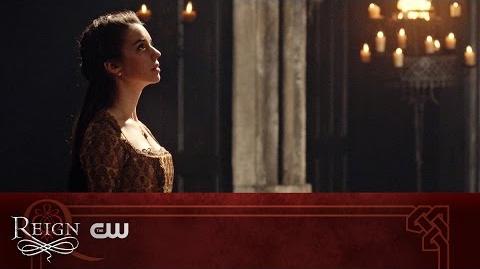 References
Edit
Ad blocker interference detected!
Wikia is a free-to-use site that makes money from advertising. We have a modified experience for viewers using ad blockers

Wikia is not accessible if you've made further modifications. Remove the custom ad blocker rule(s) and the page will load as expected.