Home
Talk

2
661pages on
this wiki
Welcome to the Reign Wiki,
The wiki about Reign that anyone can edit!
We are currently editing 661 articles and 7,082 images since early 2013.
- - - - - - - - - - - - - - - - - - - - - - - - - - - - - - - - - - - - - - - - - - - - - - - - - - -
What's New
The Newest Pages of Reign!

CHARACTERS
Latest News
The Lamb and the Slaughter
In the latest episode of Reign. Mary examines her relationship with Lola in light of the upcoming christening, with Francis' illegitimate child serving as both a bond and an obstacle between them.

Sebastian and Francis
Have an incredibly strong brotherly bond for each other. Though their relationship has been strained for the last couple of months, they have recovered from it, now with the death of their father, they will need each other more so than ever before.
After an assassination attempt on 15-year old Mary Stuart the nuns send the Queen of Scotland to France. Leaving the convent where she has been living in since she was nine after an earlier failed attempt on her life. Having an alliance with France and an engagement with the Dauphin, Prince Francis II. Mary is then brought to French court for her safety where she is reunited with her friends and ladies-in-waiting, that have come to serve her from Scotland.
Shortly after Mary's arrival, she discovers that her marriage to the Francis is not assured, which threatens the safety of her country. Meanwhile, Queen Catherine's adviser, Nostradamus, has a vision showing Mary's marriage to Francis will lead to his death. Concerned for her son's life, Catherine arranges for a boy named Colin, to drug and rape Mary in her sleep, to ruin Mary's reputation and end their engagement. However, Mary is warned by a mysterious figure and manages to stop the rape from happening. Before she could question Colin though, he is executed upon the order of the King and Queen of France. Read more >


---
Home to 661 articles as of 10 August 2011
---
Were you excited to see King Henry
What do you think on Princess Claude?:
LOVE HER!? - by 43%
---
Most are you most excited for in the next half of the season
What character growth would you like to see?: Francis needs to really apologize for what he did - by 44%
Affiliations
Seasons
Kingdoms
Relationships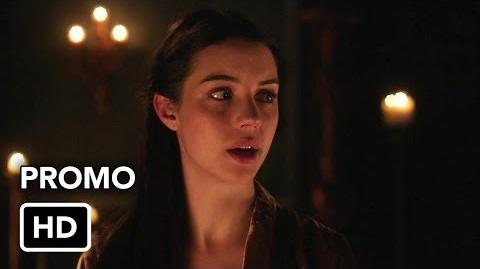 Check out these Behind the Scenes Images
General Disclaimer
Wikia holds no responsibility for
the content of external sites that
are linked to from Wikia wikis.
Wikia are created predominantly
by volunteers, so we can make no guarantee of validity of the
content. The wikis are not guaranteed
to be complete, accurate or reliable.
Please be aware that Wikia may
contain content you find objectionable. You use Wikia at your own risk.
All text on Wikia is licensed under the GNU Free Documentation License unless otherwise stated. See the Central
Wikia page on copyrights for details.
Please be aware of the
Wikia
terms of use
before using this site.