TPagan Necklace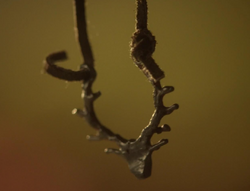 This necklace was left in Queen Mary's room one night and was on her pillow when she woke up. A few days later it was realized that the necklace had possion on the jewellery when a burn appeared on Marry's hand where she had been holding it. That night when Sara D'Piro was asked to sit with the Scottish Queen, Mary saw the same mark on her hand. It was discover Sara was a heretic and burned at the stake.
Ad blocker interference detected!
Wikia is a free-to-use site that makes money from advertising. We have a modified experience for viewers using ad blockers

Wikia is not accessible if you've made further modifications. Remove the custom ad blocker rule(s) and the page will load as expected.