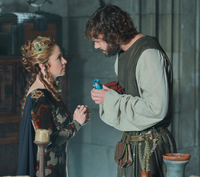 Nostradamus has visions of the future, and according to Sebastian most, if not all come true.
"That's all I was given, you know no more that I."
—Nostradamus
"If Francis and Mary wed, it will cost young Francis' his life"
"The cost of war will reach inside the castle walls"

- Sebastian is seriously wounded after an ambush when sending off troops to Scotland. [1]
'"'The lion will fight the dragon on the field of poppies"

- Sebastian fought Tomås in a field of poppied and killed him. Sebastian's symbol is a lion, while Tomås' is that of a dragon. [2]
"You'll meet a dark handsome stranger. bewarery of facury."
- Lola met 'Lord Julien' who turned out not to be who he said he was [3]
"Life will offer many challenges, you will meet them with grace"
You'll fall in love with a man with a white mark on his face
- - At the end of the episode, Leith wipes his flour covered hand over his cheek, leaving a white mark. [1]
- - Lady Aylee drinks tea that was intended for Lady Kenna, and after getting sick is murdered by Clarissa. [4]
Consummation
Edit
Nostradamus witnessed Mary and Francis is bed together talking about their children. However they were talking about their future and were only a year into their marriage. Francis died in Marry's arms.
Nostradamus saw Olivia and a group of other people dead as the castle, all piled together.
- -This was The Black Plague coming to France. [5]
Drawn and Quartered
Edit
References
Edit
Ad blocker interference detected!
Wikia is a free-to-use site that makes money from advertising. We have a modified experience for viewers using ad blockers

Wikia is not accessible if you've made further modifications. Remove the custom ad blocker rule(s) and the page will load as expected.