Megan Follows

Biographical Information
Real Name:
Megan Elizabeth Laura Diana Follows
Born:
14 March 1968
Age:
48
Height:
5'3
Originally From:
Toronto, Ontario, Canada

Family:
2 Children
Personal Information
First appearance:
Pilot
Portrays:
Queen Catherine

GALLERY
Megan Follows (born 14 March 1968) is a Canadian actress. She portrays Queen Catherine on Reign.
Life & Career
Edit
Megan (pronounced Mee-gan) has two children, a boy and a girl. Megan comes from a showbiz family: father Ted Follows, mother Dawn Greenhalgh, and sister Samantha Follows are all actors; her other sister, Edwina Follows, is a producer and writer; and her brother Laurence Follows is a producer. Has done many commercials, the first of which was at the age of 9. Has appeared in many theatrical productions, including "Romeo and Juliet", "The Effects Of Gamma Rays On Man-In-The-Moon Marigolds", and "Seven Lears: The Pursuit Of The Good." Won two Gemini awards for her performances in Anne of Green Gables and Anne of Avonlea. Megan met her husband, Christopher Porter, while filming Deep Sleep, where he was a gaffer. - IMDb Mini Biography By: Anonymous
Megan Elizabeth Follows was the last child born to parents, Ted Follows and Dawn Greenhalgh in Ontario, Canada. Her parents were part of the founding members of Canada's summer theatre culture and Megan began acting as a toddler with her siblings Edwina Follows, Laurence Follows, and Samantha Follows.
After her parents' divorce at the age of 11, Megan moved to Los Angeles to attend school and act. She got a break on the hit television show, The Facts of Life, and quickly became recognized after her performance in the internationally renowned Anne of Green Gables for which she won the 1986 Gemini Award for best actress.
After working on some other feature films for television, Megan returned once again to portray Anne Shirley in Anne of Avonlea, for which she won the 1987 Ace award for best actress and the 1988 Gemini Award for best actress. She took a break from the spotlight and decided to focus on studying theatre. She first debuted on stage in 1988 in a production of The Effects of Gamma Rays on Man-in-the-Moon Marigolds also starring her mother Dawn and sister Samantha.
During the 90s Megan focused on Shakespeare and raising a family. In 1991, Megan married Christopher Porter whom she had met on the set of Deep Sleep. In 1992, news spread across Canada celebrating the birth of her first child, Lyla Anne. While Lyla was still an infant, Megan got the role of a lifetime to star as Juliet in Shakespeare's Romeo & Juliet at Canada's Stratford Festival. After the birth of their second child, Russel, Megan and Christopher divorced.
Megan's portrays of an autistic savant in Under the Piano gained her more recognition and respect in the acting world; although unfortunately, she never received a nomination for her work. In 2000, Megan returned to the third installment of the Anne series to once again portrays Anne Shirley. Only this time she became Anne Shirley Blythe in Anne of Green Gables: The Continuing Story. The film took a turn from the original books on which it was based. Fans across the world and even Megan had mixed emotions about the storyline of the film. However her return to the character earned her a nomination for the 2000 Gemini Award for best actress. Currently Megan keeps a good balance of working on stage and on camera in both TV guest appearances and lead roles in feature films; as well as raising her two children with partner Stuart Hughes.
In February 2013, Megan Follows was cast to play Prince Francis' mother, Queen Catherine, who is aware of Mary's inflammatory effect on her son and his half-brother, just as she is aware of the dalliances of her husband, King Henry in The CW's drama series Reign.
She starred in the 1985 Stephen King film Silver Bullet.
She appeared with Jennifer Lopez in the CBS series Second Chances.
She is the daughter of the noted actor and director Ted Follows.
Fan of Game of Thrones
It's on her bucket list to climb Machu Picchu.
Her first born, Lyla Porter-Follows guest stared in two episodes as Ellen Norwood.
Reign Episode Guide
Edit
Filmography
Edit
Filmography
Year
Title
Role
1978 - 1979
A Gift to Last
1979 - 1980
Matt and Jenny
Jenny Tanner
1980
Clare's Wish
The Mating Season
Laura McLain
1980 - 1981
The Baxters
Lucy Baxter
1981
The Olden Days Coat
Sal
1981 - 1982
The Littlest Hobo
Marti Kendall / Rose
1982
Jen's Place
Jennifer
The Facts of Life
Terry Largo
Hangin' In
Cassie
1983
Boys and Girls
Margaret
1984
Sons and Daughters
Margaret
The Domestic Life
Didi Crane
Hockey Night
Cathy Yarrow
1985
Silver Bullet
Jane Coslaw
Anne of Green Gables
Anne Shirley
1986
Shattered If Your Kid's on Drugs
Kim Wilson
Sin of Innocence
Jenny Colleran
Comedy Factory
Tina Jackson
1987
American Playhouse
Anna Mae Morgan
Anne of Green Gables: The Sequel
Anne Shirley
ABC Afterschool Specials
Dana Sherman
1988
Inherit the Wind
Rachel Brown
A Time of Destiny
Irene
1989
Exposed
Champagne Charlie
Louise Heidsick
The Ray Bradbury Theatre
Aimee
Termini Station
Micheline Dushane
1990
Deep Sleep
Shelley
Back to Hannibal: The Return of Tom Sawyer and Huckleberry Finn
Becky
The Nutcracker Prince
Clara
1991
The Chase
Gloria Whipple
Cry in the Wind: The Taking of Peggy Ann
Peggy Ann Bradnick
1993
Romeo & Juliet
Juliet
The Hidden Room
Deanna Matthews
When Pigs Fly
Kathleen
1993 - 1994
Second Changes
Kate Benedict
1995
The Outer Limits
Karen Ross
Murder, She Wrote
Lila Nolan
1996
Under the Piano
Rosetta Basilio
1997
Major Crime
Joanie Wells
1998
Reluctant Angel
Lisa/Cheryl
1999
Big Wolf on Campus
Violet Thorne
2000
Anne of Green Gables: The Continuing Story
Anne Shirley
Law & Order
Megan Parnell
Made in Canada
Adele of Beaver Creek / Mandy Forward
The Fugitive
Paula Bennett
Family Law
Nancy Quinn
2001
ER
Christy Larkin
The X Files
Kath McCready
The Division
Science Teacher
Mentors
Annie Oakley
2002
That's Life
Stella
Someone Was Watching
Kate
The Stork Derby
Kate Harrington
Strong Medicine
Dana's Doctor
Live to Air
Narrator
2003
A Forreign Afair
Lena
Threat Matrix
Denise
2004
CSI: Criminal Scene Investigation
Beth Darian
Plainsong
Ella Guthrie
What Katy Did
Cousin Helen
Open Heart
Sherry Cardinal
Christmas Child
Meg Davenport
2005
CSI: Miami
Chloe Grand
Robson Arms
Janice Keneally
Shania: A Life in Eight Albums
Sharon Twain
Cold Case
Maura Mulvaney
2006
Crossing Jordan
Beth
Booky Makes Her Mark
Francie Thomson
The Great Polar Bear Adventure
Narrator/Cassie
2007
Breakfast with Scot
Barbara Warren
Royal Canadian Air Farce
Booky & the Secret Santa
Francie Thomson
2008
The Border
Moira Davis
2009
Booky's Crush
Francie Thomson
Lie to Me
Lorraine Burch
Brothers & Sisters
Maggie Stephens
Raising the Bar
Reanne Chrisman
2009 - 2012
Heartland
Lily Borden
2010
Pooka
Rosey
2011
I Am Number Four
Supermarket Cashier
House M.D.
Jennifer Williams
2012
Longmire
Alice Stewart
Where Are the Dolls
Elizabeth
Hollywood Heights
Beth
World Without End
Maud
Flight of the Butterflies
Narrator
2013
Reign
Catherine de Medici
Bar None
Tess Lavoir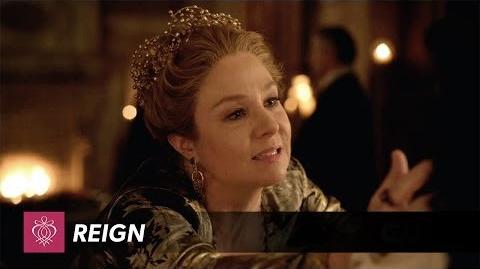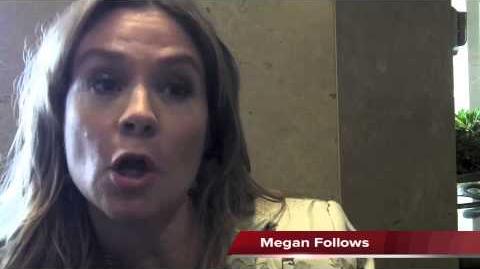 Related Pages
Edit
References
Edit