This page is dedicated to Leith Bayard and is a more in-depth look at his character's story arch in each episode.
Season One
Edit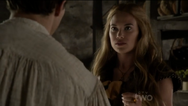 Greer of Kinross finds her way to the kitchen and begins instructing Leith on what she wants from him. Leith tells her he knows how to bake food, and she tells him she wants apple tart since strawberry's aren't in season. Leith tells her he knows what he's doing 7 she can go. She asks who will read the list to him, and he smiles and tells her he's fine, and she reluctantly leaves the kitchen and it's staff to go with Mary Stuart
That night at the Boating Party Greer is caught by Leith in the kitchen crying. Though he doesn't catch on right away and teases her until she breaks down crying.
Later Greer in much happier now as she is smiling with the kitchen boy Leith while eating the food he made earlier. Greer tells him of her father's wishes for her and must marry up. Leith suddenly kisses her and Greer gets upset. Reminding him of his post and hers.
The next morning Greer give a backer their request, and as he politely tells her 'he'll take care of it' Greer sneaks a peak at Leith. He greets her and she blushes and leaves. While he's kneading bread he rubs his cheek and gets a white flour mark on it.
Leith notices one of the king's guards harassing a young woman, so he intervenes, referring to her as "darling" in order to get the soldier to leave, which proves successful.
He explains to her, Yvette how all his life he has seen people forced into things they don't want. Yvette, clearly attracted to him, asks him to share a drink with her so he can tell her all about it. He respectfully declines, saying he is looking for someone else (Greer). She is disappointed, remarking how sad his words were.
A couple days later, Yvette is sitting by herself when Leith joins her. They formally introduce one another by name. Leith asks her if she remembers him, to which she replies how could she forget.
Leith offers to have that drink now. Yvette is flattered but also intrigued, asking him what changed. Leith simply replies he wasn't thirsty before but is now (in truth Greer spurned him, saying even though she loved him she still couldn't marry him).
Yvette tells him she is meeting someone else now. Jokingly he calls her a heartbreaker. She says, "Not at all. And don't you be one either". She then stand and they say their good-byes.
Both remain unaware of their respective relationships with Greer and Lord Castleroy.
Season Two
Edit
Ad blocker interference detected!
Wikia is a free-to-use site that makes money from advertising. We have a modified experience for viewers using ad blockers

Wikia is not accessible if you've made further modifications. Remove the custom ad blocker rule(s) and the page will load as expected.