Charles IX Of France was the party-boy The Dauphin of France who'd just returned from Spain to be taught by his brother, King Francis'. He has just become the new king of France after his untimely death. However, not being old enough to rule solo, is at the mercy the privy council, namely Lord Narcisse for a short while.
Must See Episodes
Edit
Personality
Edit
Prince Charles was a well behaved, polite young man. He is a little shy, but given time, opens up to people he trusts. He is the king after King Francis passes away. He eventually hopes to become a great king.
Early Life
Edit
Prince Charles was raised at French Court with the rest of his siblings and both of his parents. He appeared to be closest with his older brother, King Francis and younger brother, Prince Henri. He was later sent away from court where he was studying politics and such.
Queen Catherine and King Henry talked about Charles's future wife, Lady Madeleine, a young French noble whose's family is wealthy and loyal to the Crown. When Henry agreed to his' wife, Catherine told him in The Throne Room and he was not originally pleased. Francis was ordered to welcome Madeleine who would be traveling by ship to meet with her new fiancé. Mary suggested she comes along too, to ease Madeleine's mind. After a bit of disagreement, it is decided that she will come too.
Hours later, Prince Francis and Charles talked quietly as Queen Mary slept against the window. Charles made a comment to his brother about her smelling nice, and Francis said exasperatedly that he knew. Francis woke Mary when they arrived, but they are both stopped when they saw a large English warship on their borders. Francis told Mary and Charles to return to the carriage as he believed that this is an attack on Mary, and ordered the archers to take aim. However, Sebastian rode up and explained the situation.
"If they're lying they'll have his head!"
—Sebastian
Tensions die down and Madeleine presented herself as a perfect Lady, but Charles stood back. Mary introduced herself to the young girl and explained who she was. Mary walked her over to Charles who gave her a flower he picked from the ground. Hours later, back at court, Prince Charles and Lady Madeleine played with the servants, both in fancy white clothing.
The next day at a picnic for the newly engaged couple, a blindfolded Charles and Madeleine play a game, which involves the former recognizing the voice of the latter. Charles however, wasn't listening to Madeleine, and Madeleine herself wasn't speaking loud enough. Sure enough, Madeleine stomped over to Charles and took off his blindfold, annoyed that he couldn't distinguish her voice from the others.
Later, Mary tried to talk to Charles about why Madeleine was upset with him, but she saw him running away from a possible figure. Mary questioned who he was talking to, leading him to tell her about his friend, Clarissa, a mysterious figure, who lives in-between the castle walls.
Mary and Charles were playing with a ball before it got stuck in a tree. Mary climbed the tree and eventually got it back, but Charles had gotten bored already and left.
Henry was playing with his older brother Charles with their oldest brother Francis watched. Count Vincent came in and played with them both on the floor for a while. He left after having a few words with Francis.
That night Francis' orders Henry and Charles to stand by a window, and no matter what happened, they were not allowed to turn around. But when a man screamed they both looked. Charles covered Henry's eye when a fight between Francis and an Italian broke out. When it was over, Francis orders them to follow him. He leads them to a secret passage in a wall and they, along with the rest of the castles' residence went though. They eventually came out the other side at the horse stables.
Charles and Henri were excited to have been invited by Mary, to go to The Winter Frost Festival. They rode with Mary in a carriage as Charles and Mary talked. The three of them were interrupted by rioters, they didn't want to see their bloodline on the throne. The men surrounded their carriage and began trying to overturn it. Mary had Charles and Henry dropped to the floor, and cover their faces. They were eventually rescued by their guards and taken back to the castle. Later that night the brothers played together in his room.
The next morning, Sebastian surprised them by bringing The Winter Frost Festival to them. Excited they ran off to explore the fair. But not long after, Charles called Mary over to help him with his mask. But during the Winter Festival, Bash had instructed the boys to seek off into a carriage. Unbeknown to them, were being taken to Italy.
Charles and Henry hid in the back of a straw wagon and stopped at nightfall for food. Charles told the driver he was cold, and he went to grab a blanket, but never return. Instead Clarissa appeared, she told them how she wanted them all to be a family and had Charles and his brother walk with her.
The next morning as they watched the sunrise by the lake, Clarissa told them to go find as many rocks as they could. She wanted them to fill their pockets full of them, then go for swim. Charles tried to tell her he couldn't swim, but she ignored him. The boys both started to feel scared, but had nowhere to go.
To their amazement, their mother, brother, and Mary all showed up. Charles and Henry ran towards Sebastian, but Charles was caught by Clarissa. She held a knife to his throat and told their mother they could all be together in death. After a fight between all the adults, Mary smashed Clarissa on the head with a rock, killing her. Charles ran to his mother.
Once they were safe and back up the hill, their mother made sure they were all and bundled up. She sent them off with their brother Sebastian and warned him to make sure they got a bath when they got home. Their brother took them to an waiting carriage to go back to the castle.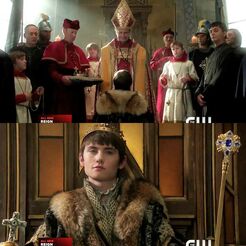 Historical Notes
Edit
Appearances
Edit
Season One
Pilot
Snakes in the Garden
Kissed
Hearts and Minds
A Chill in the Air
Chosen
Left Behind
Fated
For King and Country
Sacrifice
Inquisition
Royal Blood
Consummation
Dirty Laundry
The Darkness
Monsters
Liege Lord
No Exit
Toy Soldiers
Higher Ground
Long Live The King
Slaughter Of Innocence
Related Pages
Edit
Pages relating to King Charles are the following:

• King Charles

• History's King Charles IX 

• House of Valois • King Charles' Coronation • House of Medici

• Charles and Madeleine's Engagement Party

• Peter Dacunha • Spencer MacPherson

References
Edit
Ad blocker interference detected!
Wikia is a free-to-use site that makes money from advertising. We have a modified experience for viewers using ad blockers

Wikia is not accessible if you've made further modifications. Remove the custom ad blocker rule(s) and the page will load as expected.