"I may still be queen. But I am no longer the Queen of France."
—Queen Mary
Mary Aligns Herself With Catherine
Mary realizes she must help Catherine in her quest to become regent, even at the risk of hurting the alliance with Scotland. Claude is determined to help Leith marry while Elizabeth struggles with the prospect of losing Dudley.
Lady Greer: Mary, you are not fine. You just lost the man you love, and now they are moving you to a lesser room, treating the Queen of Scotland like she's-
Queen Mary: An outside? That's because I am.
Queen Mary: I may still a Queen. But I am no longer the Queen of France.
Queen Catherine: How can I pray to God, when I am certain he doesn't not hear me.
Queen Catherine: My election could mean the end of your nation.
Leith Bayard: Why do you want to help me?
Princess Claude: Because you're going to end up with someone. Why not someone a step above. But within reach?
The episode title and synopsis were released on October 29, 2015.
The episode images were released on November 3, 2015.
This is the first episode the entire cast appears, except for Toby Regbo who is no longer on the show.
Historical Notes
Edit
| | |
| --- | --- |
| | Official Pictures from each episode, and an additional 50 pictures gallery is available here. |
Characters
Edit
| | |
| --- | --- |
| | Character debut |
| | Speaking debut |
| | Episode debut |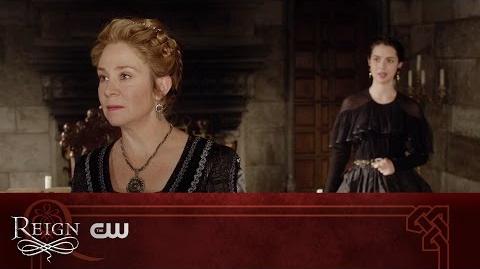 References
Edit
Ad blocker interference detected!
Wikia is a free-to-use site that makes money from advertising. We have a modified experience for viewers using ad blockers

Wikia is not accessible if you've made further modifications. Remove the custom ad blocker rule(s) and the page will load as expected.