"I cannot help you be Queen! Or Scottish!"
—Lord Narcisse
Mary Returns to Scotland and is Shocked by what awaits Her
When Mary arrives in Scotland, she is stunned by the treacherous world it has become and is forced her to keep her royal identity a secret until she learns who she can trust. When Elizabeth jeopardizes her standing with an unbearable new suitor, Lola steps in to help, which causes the Queen to question Lola's ulterior motives. Meanwhile, Charles secretly plots to relinquish Catherine of her power.
Mary Stuart: It's Bash, he's alive! We have to stop them.
Lord Narcisse: Give me your sword.
Mary Stuart: It's gone.
Lord Narcisse: Then we have no choice... Look away.
Lord Hans: Would you be interested in anything else? My chambers for example… There's the smile I was hoping for.
Lady Lola: I did't say yes!
Lord Hans: Allow me to charm you some more, and we'll work on that next part.
Lord Narcisse: I cannot help you be Queen! Or Scottish!
Death Toll [2][3]
- Countless French Soldiers
- Druids
Historical Notes
Edit
Prince Magnus was born Magnus, Duke of Östergötland as a Prince of Sweden. He was born in 1542 making him 19 in 1561.
Queen Mary returned to Scotland 9 months after her husband's death, arriving in Leith on 19 August 1561.
Edinburgh, Castle is a war castle, and not where Royals stay while ruling. Instead, they stay at Hollywood Castle a mile away on The Royal Mile.
Pope Paul III became the pope in October 1534, when Catherine de' Medici was 15. She would have been close with him, as the previous Pope, Pope Clement VII was her guardian.
| | |
| --- | --- |
| | Official Pictures from each episode, and an additional 50 pictures gallery is available here. |
Characters
Edit
| | |
| --- | --- |
| | Character debut |
| | Speaking debut |
| | Episode debut |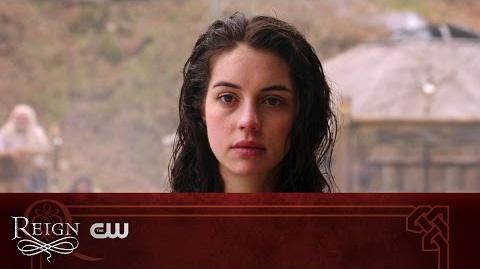 References
Edit
Ad blocker interference detected!
Wikia is a free-to-use site that makes money from advertising. We have a modified experience for viewers using ad blockers

Wikia is not accessible if you've made further modifications. Remove the custom ad blocker rule(s) and the page will load as expected.