Anna Popplewell

Biographical Information
Real Name:
Anna Katherine Popplewell
Born:
16 December 1988
Age:
26
Height:
5'3½
Originally From:
London, England, UK

Family:
Freddie Popplewell (Brother)

Lulu Popplewell (Sister)

Personal Information
First appearance:
Pilot
Portrays:
Lady Lola

GALLERY
Anna Popplewell (born on 16 December 1988) is an English actress. She portrayed Lady Lola on Reign.
Life & Career
Edit
Born in London, England, Anna Popplewell was enrolled in acting at a young age and quickly made a name for herself among young Hollywood's elite.
In 2005, Anna starred in her first lead role as Susan Pevensie in the Oscar award-winning film series The Chronicles of Narnia. Her work within the first film The Lion, The Witch and The Wardrobe was awarded with the Character and Morality in Entertainment Award for the "Best Performance in the Cast." She also portrays the lead role of Beth in the film Passengers (2014).
In February 2013, Anna Popplewell was cast as Lola, Mary's Lady-in-Waiting. In June of 2016 she exited the series with her character's death.
Appeared in the October 2013 issue of Glamour magazine
It's on her Bucket List to live in New York.
When practicing archery with Narcisse, Lola claimed she never held a bow. In real life, Anna Popplewell played Queen Susan in "The Chronicles of Narnia", a character famous for the use of her bow and arrow. [1]
Reign Episode Guide
Edit
Filmography
Edit
Excluding TV movie, & TV Mini-Series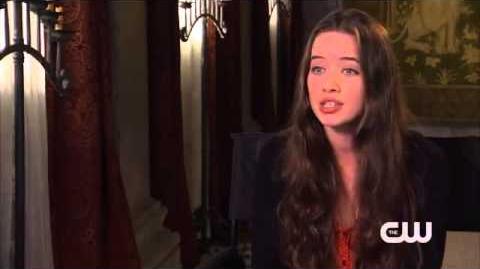 Related Pages
Edit
Pages relating to Lola are the following:

• Lola 

• Lola's Fashion Style

• Lola and Francis • Lola and Mary 

• Lola and Julien's Wedding • Lola and Narcisse's Wedding 

• Lola and Colin • Lola and Julien • Lola and Narcisse

• Anna Popplewell

References
Edit
Ad blocker interference detected!
Wikia is a free-to-use site that makes money from advertising. We have a modified experience for viewers using ad blockers

Wikia is not accessible if you've made further modifications. Remove the custom ad blocker rule(s) and the page will load as expected.